In 2002, the Quality Management Certification System of Transportes Lemos, Lda in accordance with NPENISO9001:2000 standard.In 2010, NPENISO9001:2008 and in 2018, NPENISO9001:2015.
The implementation of the Occupational Health and Safety Management System according to the ISO45001 is now in progress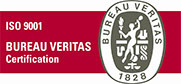 Quality Policy
The quality policy of Transportes Lemos, Lda is based on the commitment of the full satisfaction of our clients through the continuous and systematic quality of its services as well as the compliance with legal requirements. So, the company works on the basis of the participation of our collaborators and the interface of the several departments in order to maintain the high quality required by the organization and management. To achieve and assure tis level of quality we have a quality policy system with guidelines and general aims that are essential for the growth and improvement of our professional activity.



To achieve these aims, Transportes Lemos, Lda is always trying to:
Motivate and mobilize all the collaborators suppliers and clients to achieve the required level of Quality;
Deserve the clients recognition by fulfilling theirneedsand expectations;
Promote the welfare and the continuous training of the collaborators in order to improve the quality of its services and the global image of the company;
Respect the environment, minimizing the environmental impact associated to the company activity , observe the health and safety rules and contribute to the quality of the surrounding community;
Manage to optimize its resources and costs avoiding waste and improve the processes organization assuring a sustainable growth of the company and business.
"Same cause same goal : the client and his satisfaction"